WHAT EACH DAY OF THE WEEK MEANS TO EMPLOYEES (IF BEING HONEST)
The work week is a cycle that employees find themselves in, well, every week. The thing is, it's cyclical. You do what you can to make it through to the week (if you're being completely honest to yourself and employers), and then you find yourself right back in the same position at the beginning of the following week. 
Monday …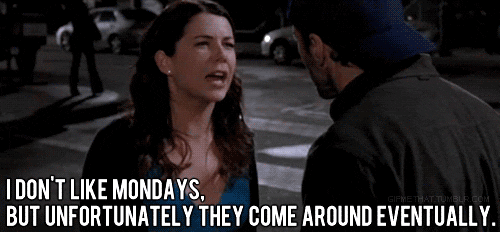 SOURCE: giphy.com

(If being honest) is a time of mourning.
The weekend is officially come and gone and now seems but a bleak flicker of light in the future. Monday is a time to reminisce about how wonderful it was to decompress from the previous 40 (or more) hours you put in last week. Monday is a time to gear yourself up for the coming work week. It's a time to ferociously send out emails and idea pitches you may have procrastinated last week. It's a time to come up with new ideas for the coming week.
Tuesday …

SOURCE: giphy.com

(If being honest) is the day when the work week really begins.
All the things you procrastinated from Monday have officially come down the pipeline. You've either been given the go-ahead on some tasks or the ultimatum email to get things done (finally). Tuesday is the day when you theoretically get the most work done during the work week. Tuesday is the day you finally have come down from your weekend high and are back to the grind of your employment. Tuesday is more like a Monday than a Monday, because you settle in and actually get some work done rather than think about how great the weekend was.
Wednesday …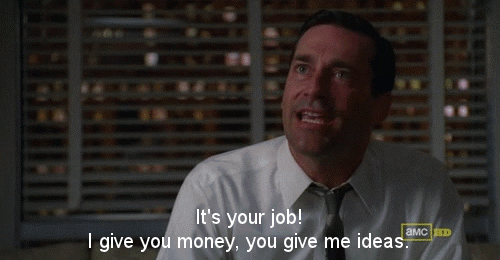 SOURCE: giphy.com

(If being honest) is when everything is in full swing.
You're in the groove. You're popping off tasks left and right without batting an eye. You're sending out emails and straight up getting things done. Wednesday is also hump day, and for a brief moment in time you celebrate with the joyous thought that the week is halfway over! Optimism at its finest. BUT, then you realize that that means the work week also still has halfway to go until the beautiful embrace of the weekend. Pessimism takes a stranglehold on you once more. At least you're being highly productive and feel good about your career motives and ambitions for the day. Wednesday is the day you finalize all tasks on your end and send them back in for final approval from the higher-ups.
Thursday …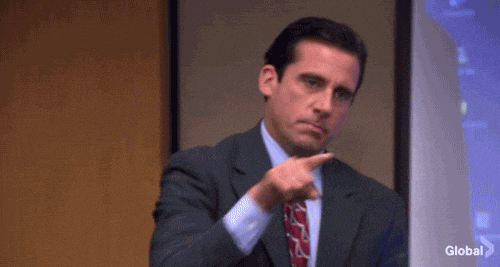 SOURCE: giphy.com

(If being honest) is when you're at your peak level of professionalism for the week.
You put the finishing touches on all your tasks that came down from your superiors. You starts drafting up what's to come next in your series of tasks and duties within the office. You've finished this workload, and you're looking ahead to the next steps like a true professional in your field of choice. That being said, Thursday is also kind of the start of the weekend. You feel accomplished for all that you've gotten done today and for all that you have planned out for the future, so you should reward yourself by thinking about all the fun you're going to have this weekend. Thursday is when you start asking those within the office what their weekend plans are (mostly to see if they're boring and to give yourself some ideas for entertainment). Thursday is also when you start contacting friends outside the office.
Friday …

SOURCE: giphy.com
(If being honest) is the hardest day to get anything done.
If deadlines are strictly in place for today, those things just aren't going to get done. Friday is the day when staring at the clock is what consumes most of your day. Slithering around and pretending to focus on what's going on is how you'll "work" all day. Friday is when you put off everything. Friday is when you try your best to get out of the office a little bit early. Friday is when you tell yourself that you'll be able to knock it (whatever the task is) out on Monday. Friday is when you start celebrating your career accomplishments and reward yourself heavily for all the work you've put in this week. Friday is the beginning of the cycle. Friday is the day you make all the procrastinating decisions that you have to deal with on Monday. It can wait, right? Right.
RELATED POSTS: