11 EMPLOYEES FROM TV YOU'LL FIND IN EVERY OFFICE
The best television is based off something that audiences can relate to. You feel you can put yourself in the character's shoes. You feel you may have even lived out the exact scenario being portrayed in the episode. You may even feel some of the characters are based off somebody you know, or even yourself.
Often, the most relatable topic for television to portray (aside from dating, which is a rampant plotline) is the workplace. Television shows dissect work environments and the people that make them up. The reason these 11 shows have been so successful is becuase you probably know a person from the cast you feel you've worked with in your real-life career.
1. Ryan Howard – The Office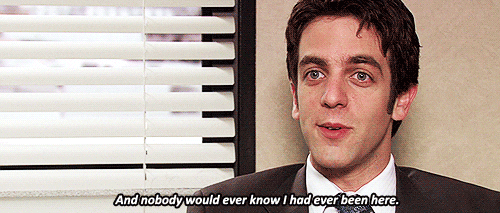 Source: giphy
The "temp." I.e., the intern. Much smarter than most people around the company give them credit for. They find a way to make an impact, however silent and brilliant it may be. Who knows, maybe it was you at one point. Much the same, Ryan Howard found a way to make an impact around The Office in a stealth-like manner.
2. Dr. Cox – Scrubs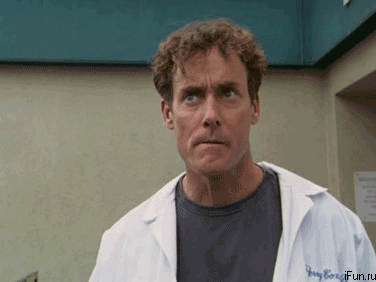 Source: giphy
Intimidating superior that you look up to. You despise their methods, but ultimately they make you a better employee. You've followed their lead, not really understood it, and then found yourself in a better position in your career. Dr. Cox did this routinely for JD and company.
3. Doug Stamper – House of Cards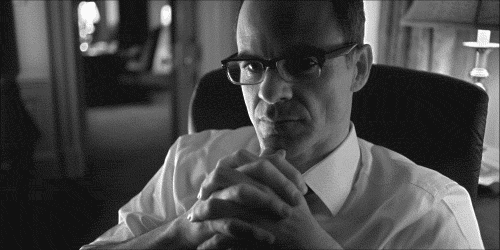 Source: giphy
This person defines themselves by the professional status. Their job title is how they introduce themselves. They've dedicated their lives to their livelihood. A true career-minded person that literally can't leave work at work. Everything is one big whirlwind of work to them. Doug Stamper does some of his most effective work in the middle of the night. Now, you hopefully haven't worked with someone who's covered up murders, but you most certainly know someone who's a tireless workhorse.
4. George-Michael Bluth – Arrested Development


Source: giphy
Another one in a long line of heirs to the family business. Too young to be given much responsibility, but it inevitably happens. This person may not want to take over the family business, but they've been forced into it. George-Michael never wanted to work in the banana stand but was convinced he needed to do so. 
5. Mac – It's Always Sunny In Philadelphia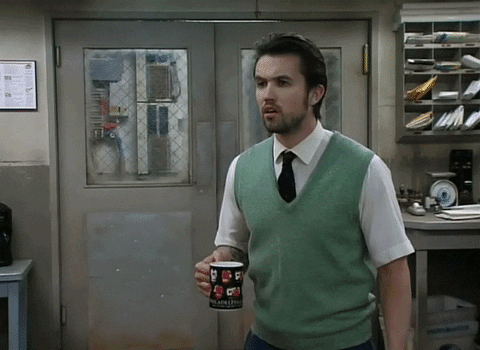 Source: giphy
Always takes the unconventional path. You always wonder if they even know what's going on and what their motive is. Things seem like they couldn't get any worse, but yet somehow this person finds a way to work it all out. Hopefully not in such a destructive path like what Mac outlines for himself but in a businesslike fashion. But hey, results are results(?)
6. Coop – Wet Hot American Summer: First Day of Camp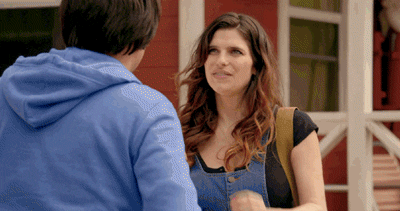 Source: giphy
Just wants to make everybody happy all the time. Anything this person can do, they will do it. Really, no questions asked. The Coop in your real-life work environment is a joy to have around and generally makes the office a better place to be.
7. Mozzie – White Collar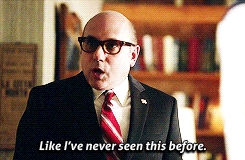 Source: giphy
The outside consultant. They may get brought in for their expert opinion. They may get brought in to clean up your mess. This could be an IT guy who fixes your computer. They could be a freelancer that does some small side projects the company has procrastinated. Much like Mozzie in the show, the Mozzie you've worked with in real life can wear "many hats," if you will.
8. Anders Holmvik – Workaholics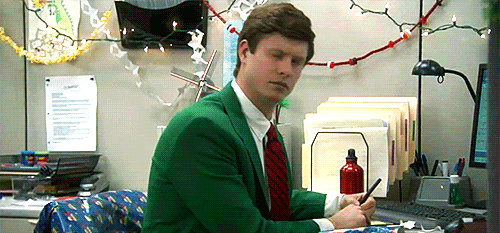 Source: giphy
This is the person in the office that talks a big game. They have starry eyes of getting the corner office but maybe take an unconventional path. They're a social climber, perhaps, but ultimately likeable. Someday they'll get that corner office, but it'll happen when they lose the Ders-like persona and do it the old-fashioned way: rolling up their sleeves and working.
9. Vince Masuka – Dexter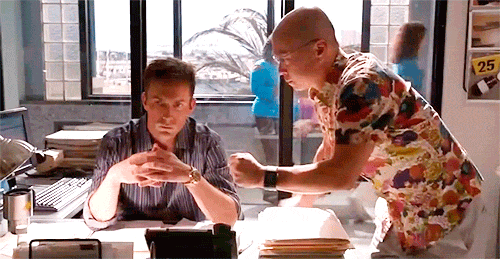 Source: giphy
Comraderie is the name of the game for this person in the workforce. Joking around, even in the the tensest of situations, is how this person keeps everyone tightly bonded. Inviting everyone out for socializing opportunities after-hours is also this person's specialty. 
10. Red – Orange Is the New Black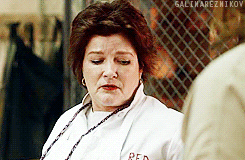 Source: giphy
Sure, Red is a criminal, but she works her buns off in that kitchen and will do whatever it takes to ensure her work isn't tarnished. When she's taken off kitchen duty, she's crushed because it was her passion. Although you (hopefully) haven't worked with someone who took measures like her to get back the project she was so passionate about, you've most certainly worked with someone who did everything in their power to put their best work out there. If anything, that's what Red stands for.
11. Jerry Gergich – Parks And Recreation



Source: giphy
This person has been at the same company their entire life, and they're extremely complacent with career choices. Has a happy family, and the downtime is what they revel in. Jerry gets picked on around the office, but if you've seen the show, you know he has a gorgeous wife and loving daughters. People's workplace persona don't always reflect who they are when the leave the office. Who do you think the Jerry (Garry, Terry, Larry … whatever you want to call him) is in your office?
RELATED POSTS: